Unions Under Attack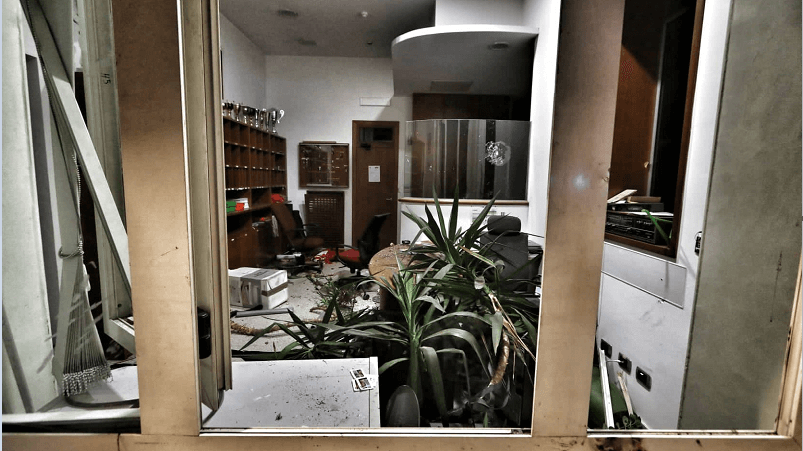 In Australia, a mob of 2,000 of antivaxxers and fascists attacked the Melbourne office of the Construction, Forestry, Maritime, Mining and Energy Union (CFMEU) on September 21. 2021. They trashed the outside of the building, threw bottles at the union secretary and battled riot police.
In Rome, an organized group of fascists broke away from an antivaxx demonstration and attacked the headquarters of the CGIL (the main Italian union confederation) on October 9. They broke into the offices and ransacked the building up to the fifth floor.
On September 1, 2021 anti-vaxxers protested outside hospitals across Canada, healthcare workers were targeted, harassed, abused and in some cases assaulted. Patients and workers alike were traumatized; many protesters held signs or shouted slogans that echoed far right and fascist talking points using words like 'choice' 'freedom' and 'rights'. It is the central force behind the current "notice of liability" campaign which is swamping union offices with a barrage of bogus pseudolegal documents threatening officers and shop stewards with dire consequences unless they defy Covid health measures. Action4Canada has also played a particularly significant role in organizing support for the "truckers'" convoy and the Ottawa occupation.
The values and strengths of the labour movement: solidarity, equality, democracy, inclusion, dignity, fairness and the ability to mobilize large numbers of members are precisely why unions are under attack. Antivaxxers are targeting unions in Canada, using their public demonstrations and social media presence to recruit union members and establish an organized presence inside targeted locals. This is a systematic, deliberate campaign to harass and intimidate union officers and stewards, to gain control of union organizations and co-opt the labour movement to their purposes.
Who are they?
The antivaxx movement may seem a recent response to COVID-19 vaccine and mask mandates and government health orders, but it has roots in - or relationships with - far right, white supremacist, neo-nazi, fascist, authoritarian or conspiracy-theorist leaning organizations and influencers. It is a minority seeking to impose their views on the rest of society.This is why it is so vital that the labour movement be clear, deliberate and strong in standing against it.
This far right movement is not a single entity but these groups often act in concert and new recruits may not recognize or understand the true nature of the movement. They may start with concerns about the vaccines or public health measures but quickly become fodder for recruitment to the influencers' full complement of conspiracy theories and hate messages. The ego, arrogance, exhibitionism and extreme tribalism that are hallmarks of the leaders are a weakness; yet in spite of this the movement overall remains a serious and growing threat.
Action4Canada is one of the largest and most organized antivaxx organizations in B.C. It claims to have 35 chapters across the province, dozens of organizers, and an email list of "tens of thousands". It is the central force behind the current "notice of liability" campaign which is swamping union offices with a barrage of bogus pseudolegal documents threatening officers and shop stewards with dire consequences unless they defy Covid health measures.
They have a subgroup specifically designed to recruit union members, holding Zoom meetings to instruct union members and others on how to carry out this campaign of intimidation, and they have had some success. In November they organized a demonstration of several hundred outside the offices of Transport Canada to protest vaccine passports. They pretended this was a demonstration of ILWU members and claimed it had the support of 100,000 dockworkers. In reality it was a group of antivaxxers with only a few individuals claiming to be union members. This is a hallmark of both antivaxx and fascist groups: exaggeration, lies, misinformation, co-opting, misrepresentation and intimidation. Other unions and other communities around BC are currently being targeted with similar campaigns and actions.
It is important to understand that Action4Canada is NOT a recent antivaxx group. It is a far-right organization begun pre-pandemic in 2019 that has latched on to the antivaxx movement in order to increase its reach, and to recruit. https://www.antihate.ca/m_103_pandemic_evolution_canadian_islamophobic_activists_shows_how_hate_movements_adapt
Many at the forefront of foment and disruption have histories that go far beyond opposing current Covid measures. Action4Canada, for example, also targets unions, the UN, the "New World Order", 5G towers, and access to abortion. They oppose Covid stimulus spending, legalized cannabis, transgender and LGBTQ rights. They call for the total eradication of Islam, oppose the ban on assault rifles, float wild conspiracies and call for the federal government to close the border to refugees. These are no harmless activists concerned about government overreach. Many organizations rooted in fascism espouse violence to achieve their aims and under cover of their demands for "freedom" seek authoritarian rule that will marginalize, punish and demonize their chosen targets and any who do not profess their views.
Covid pandemic health orders and policies have created complexity for unions. Members with legitimate medical exemptions and vaccine hesitancy must be represented. It is also unfortunate that Covid mandates and guidelines have been implemented by some governments and employers in arbitrary, even discriminatory ways. Unions have a role to play in ensuring access to reasonable accommodation that is consistent with science and implemented fairly.
Understanding and countering the antivaxx movement is a start, but the labour movement also has a central role to play countering the neofascist movement behind it which is larger and better organized – within Canada and around the world - than it has been since the 1930's. Unions must stand in solidarity with civil society and all those threatened by the increasing boldness and aggression of the far right. The labour movement can and must engage with a broad coalition of everyone threatened by fascism – to ally to fight back, in our communities, our workplaces and – if necessary – in the streets to defeat this threat as previous generations have done.
Officers, stewards and activists will need to be able to understand and counter the far-right's talking points and combat misinformation with facts. Below are some links for leaders and stewards to begin this critical educational effort:
https://theconversation.com/covid-19-anti-vaxxers-use-the-same-arguments-from-135-years-ago-145592

https://www.france24.com/en/europe/20210708-true-or-false-countering-the-claims-of-covid-19-vaccine-sceptics

https://www.euro.who.int/__data/assets/pdf_file/0005/315761/Vocal-vaccine-deniers-guidance-document.pdf

https://www.aldergrovestar.com/opinion/letter-langley-nurse-refutes-anti-vaxx-arguments/